Passing of Vice Chairman
October 06, 2017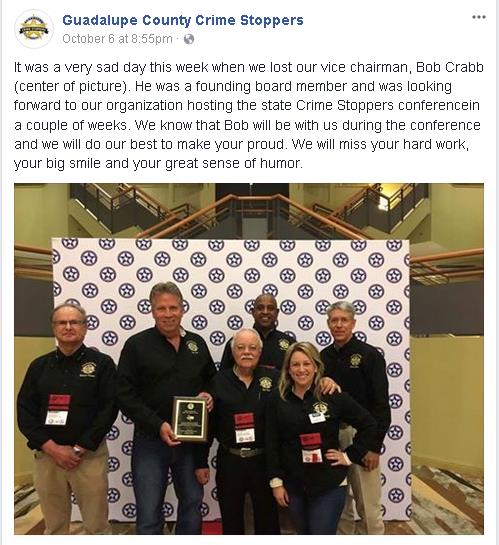 ---
Texas Crime Stoppers Newsletter - Conference Edition
October 06, 2017
October-2017-Issue-Conference-Edition.pdf
---
29th Crime Stoppers Conference
September 26, 2017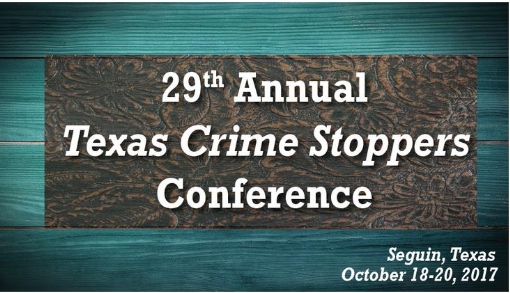 29th Annual Crime Stoppers Conference
The 29th Annual Texas Crime Stoppers Conference will be hosted by Guadalupe County Crime Stoppers in Seguin, TX on October 18th through 20th, 2017.
Texas Crime Stoppers Conferences provide attendees a well rounded experience and offer basic crime stoppers training, State related regulations and requirements of Crime Stoppers Organizations in Texas, relevant criminal justice hot topics and information sessions, our annual Texas Best awards banquet, and of course fun!
Sixteen hours of TCOLE credit and continuing certification credit are available if you successfully complete all conference requirements, attend all sessions, and return all completed course forms. Attendance at the Texas Crime Stoppers Conference will satisfy training requirements for continued certification for all certified Crime Stoppers Organizations.
We hope to see you there!
Pre-Conference Check-In
Date: Tuesday, October 17, 2017
Location: Seguin Coliseum
950 S. Austin St. Seguin, TX
Time: 3:00PM - 5:00PM
Pre-Conference Evening Event
Pub Crawl; Downtown Seguin
Date: Tuesday, October 17, 2017
Time: 5:00PM- 10:30PM
Complimentary appetizers and beverages available at the first stop, individuals will be responsible for purchasing their own food & beverage at all other stops.
(shuttle buses will be made available from hotel locations)
Day 1
Conference Check-In
Date: Wednesday, October 18, 2017
Location: Seguin Coliseum
950 S. Austin St. Seguin, TX
Time: 9:00AM - 12:00PM
Opening Ceremony: 12:30PM - 1:15PM
General Sessions: 1:20PM - 5:30PM
Fun Night- Dinner & Dance: 6:30PM - 10:30PM
Location: Big Red Barn
390 Cordova Rd. Seguin, TX
(shuttle bus will be made available from hotel locations)
Day 2
Breakout Sessions- 8:30AM - 5:30PM
Date: Thursday, October 19, 2017
Location: Seguin Coliseum
950 S. Austin St. Seguin, TX
Track 1- Law Enforcement
Track 2- Non-Profit
Track 3- Basic Crime Stoppers
Texas Best Awards & Banquet
Time: 7:00PM
Location: Seguin Coliseum
950 S. Austin St. Seguin, TX
Day 3
General Sessions- 8:00AM - 12:00PM
Date: Friday, October 20, 2017
Location: Seguin Coliseum
950 S. Austin St. Seguin, TX
Closing Ceremony
Location: Seguin Coliseum
950 S. Austin St. Seguin, TX
Time: 12:00PM - 12:30PM
29th Annual Crime Stoppers Conference gathers community crime stoppers volunteers across the state of Texas for some training, networking opportunities, and fun!
Register through this link:
http://thetexascrimestoppers.org/training-2/conferences/27th-annual-conference/
---
Save the Date for 2017 Conference in Seguin
October 11, 2016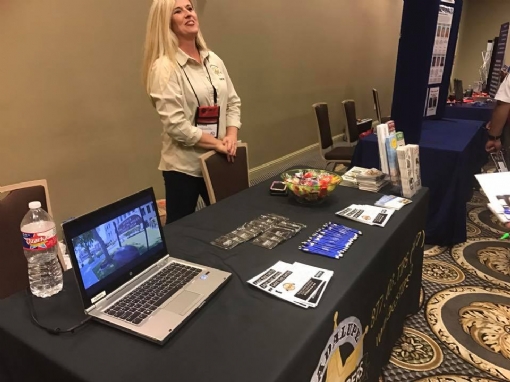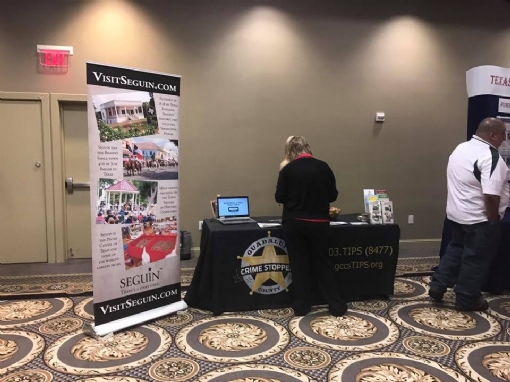 ---
Guadalupe County Crime Stoppers Award
October 11, 2016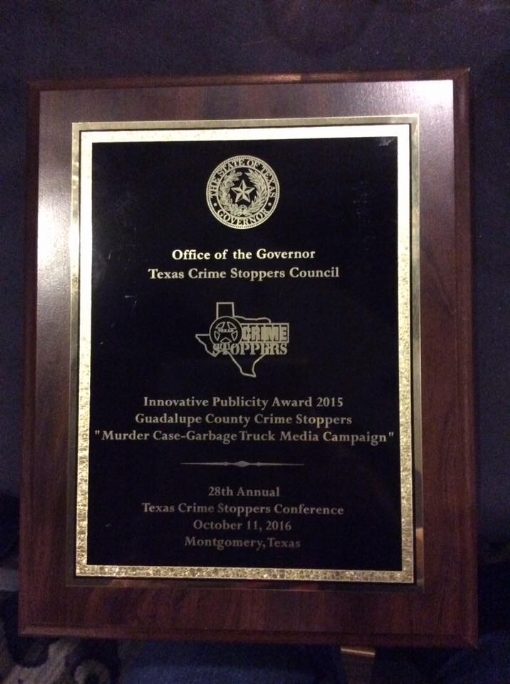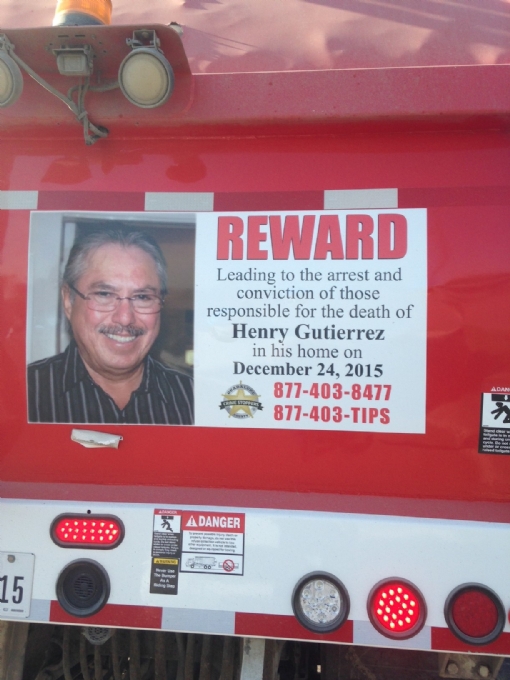 ---
Murder of Henry Gutierrez - REWARD INCREASED-UP TO $30,000
September 02, 2016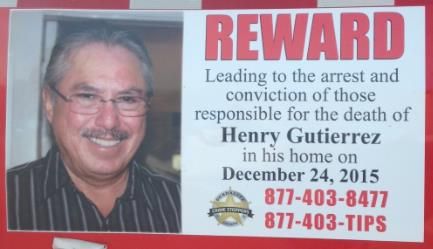 ---
Press release - Henry Gutirerrez Family Desperate for Answers
August 11, 2016
FOR IMMEDIATE RELEASE
Press Release # GCCS-072116
Media Contact:
Morgan Ash, GCCS Board Member
Office: (830) 386-2590
Email: mash@seguintexas.gov
Family of murdered Schertz businessman desperate for answers
GUADALUPE COUNTY, Texas – Family members of Henry Gutierrez are desperate for answers as the months since he was found shot to death drag on. To help the family get the peace of mind they deserve, the Guadalupe County Crime Stoppers, with the help of anonymous donors, is offering up to a $28,500 monetary reward for information that leads to an arrest and indictment in this case.
"Please help us to find his murderers and spare another family the pain of such a needless and tremendous loss," pleaded Christine Guttierez, one of Henry's surviving sisters. Adding that, "Henry was a devoted father, grandfather and brother who never met a stranger. He embraced people and had a heart to unconditionally help those who were down and out. That is the Henry we know, love and miss."
71 year old Gutierrez was found dead in his Schertz home on Christmas Eve 2015. Investigators say his white 2013 Ford Explorer was stolen from the home, and finally found months later in March 2016 parked at a San Marcos apartment complex.
Henry's son, Miguel, hopes someone knows something that can help detectives find a resolution to this case – and put the person who did this in front of a jury.
"After seven agonizing months we are still searching for answers. We ask that anyone who may have information, no matter how insignificant it might seem, to put yourself in our position and please come forward. I simply want justice for my father that he may rest in peace and some sense of closure for my family so that we may be able to move forward with our lives," begged Miguel Gutierrez.
If you or someone you know has information that can help the Gutierrez family obtain justice for their loved one, please submit a tip immediately to the GCCS"s tip line 877-403-TIPS. You can also submit a tip online at www.gccsTIPS.org. or P3 Tips App. Remember ALL tips are strictly anonymous.
---
Texas State Crime Stoppers Conference 2017 & 2018
March 14, 2016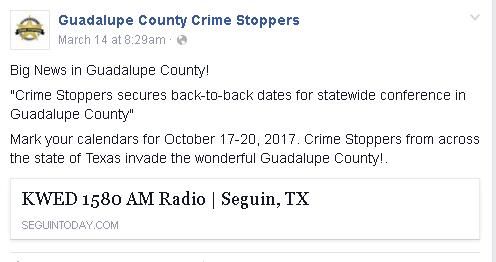 ---
Guadalupe County Commissioner Court Proclamation 2016
January 31, 2016
Guadalupe County Commissioner Court Proclamation Crime Stoppers 2016.pdf
---
29th Texas Crime Stoppers Conference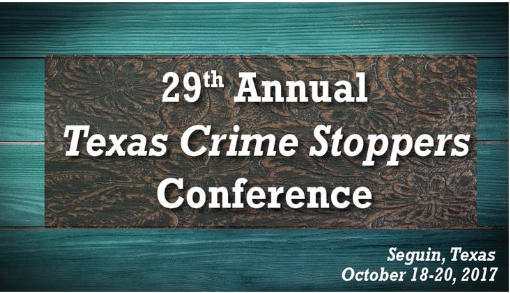 ---