SCAM ALERT
PRESS RELEASE
07/03/18
Sheriff Zwicke and the Guadalupe County Sheriff's Office recently took a report in the 2000 block of FM 758 from a concerned citizen. They reported that an individual drove up and represented themselves as a county employee. They provided the complainant with a business card which claimed to be Triple JJJ Asphalt a Texas based business with free estimates. They offered to pave her parking lot with left over chip seal from a prior Guadalupe County job.
When the citizen questioned the man, and told him that she was calling the Sheriff's Office to confirm the county was giving away chip seal, the subject quickly left the property towards the direction of Highway 46. Subject was said to be driving a black pickup truck, possibly a Toyota Tundra and presented a green and black business card with an email and two phone numbers. The citizen is concerned that the male could be scamming other people in the county while representing himself as a county employee.
The Guadalupe County Sheriff's Office further investigated and found the 800 number on the card went to a voicemail titled "Paving Division". The other number, a 210 area code rang several times, was picked up and then immediately disconnected. This information is being disseminated to the public as a public service announcement for their awareness.
Sheriff Zwicke asks the citizens of Guadalupe County to report any suspicious activity, and to be aware that there are scammers that will take advantage of trusting people. He also asks that if these people show up to you home to contact the Sheriff's Office.
Anyone who has information and wishes to remain anonymous, please contact Guadalupe County Crime Stoppers at 877-403-TIPS (8477) or online at www.gccstips.org or through the "P3" smart phone app.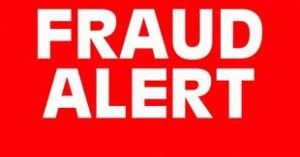 Most Recent Scams
IRS-Impersonation Telephone Scam
An aggressive and sophisticated phone scam targeting taxpayers, including recent immigrants, has been making the rounds throughout the country. Callers claim to be employees of the IRS, but are not. These con artists can sound convincing when they call. They use fake names and bogus IRS identification badge numbers. They may know a lot about their targets, and they usually alter the caller ID to make it look like the IRS is calling.

Victims are told they owe money to the IRS and it must be paid promptly through a pre-loaded debit card or wire transfer. If the victim refuses to cooperate, they are then threatened with arrest, deportation or suspension of a business or driver's license. In many cases, the caller becomes hostile and insulting.
Or, victims may be told they have a refund due to try to trick them into sharing private information.
If the phone isn't answered, the scammers often leave an "urgent" callback request.
Note that the IRS will never: 1) call to demand immediate payment, nor will the agency call about taxes owed without first having mailed you a bill; 2) demand that you pay taxes without giving you the opportunity to question or appeal the amount they say you owe; 3) require you to use a specific payment method for your taxes, such as a prepaid debit card; 4) ask for credit or debit card numbers over the phone; or 5) threaten to bring in local police or other law-enforcement groups to have you arrested for not paying.
From the IRS website.
01/27/15
Scam Alert- 08/12/14
The Guadalupe County Sheriff's Office has received several reports of a male subject calling people and identifying himself as a Lieutenant with the Guadalupe County Sheriff's Office. The male then tells the person they have warrants in Guadalupe County and they need to pay a large amount of money or they will be arrested at their place of employment. The male tries to sound official by reading what he calls a "legal affidavit" to the person and telling the person the warrants are felonies. The male has some personal information on the people he is calling.
These calls are not from the Guadalupe County Sheriff's Office and if you receive one of these calls, call the Sheriff's Office and report the incident.
DO NOT PAY MONEY TO ANYONE THAT CALLS YOU AND DO NOT GIVE OR CONFIRM ANY PERSONAL INFORMATION.
______________________________
SCAM ALERT
The Guadalupe County Sheriff's Office has taken several reports in the past five (5) months of someone calling and telling the person their grandchild is in jail in Mexico and they need money wired to Mexico to get them out of jail. In all the reports taken the grandchild was not in jail or in Mexico.
If you receive a phone call like this, contact the Guadalupe County Sheriff's Office and report the incident. 830-379-1224